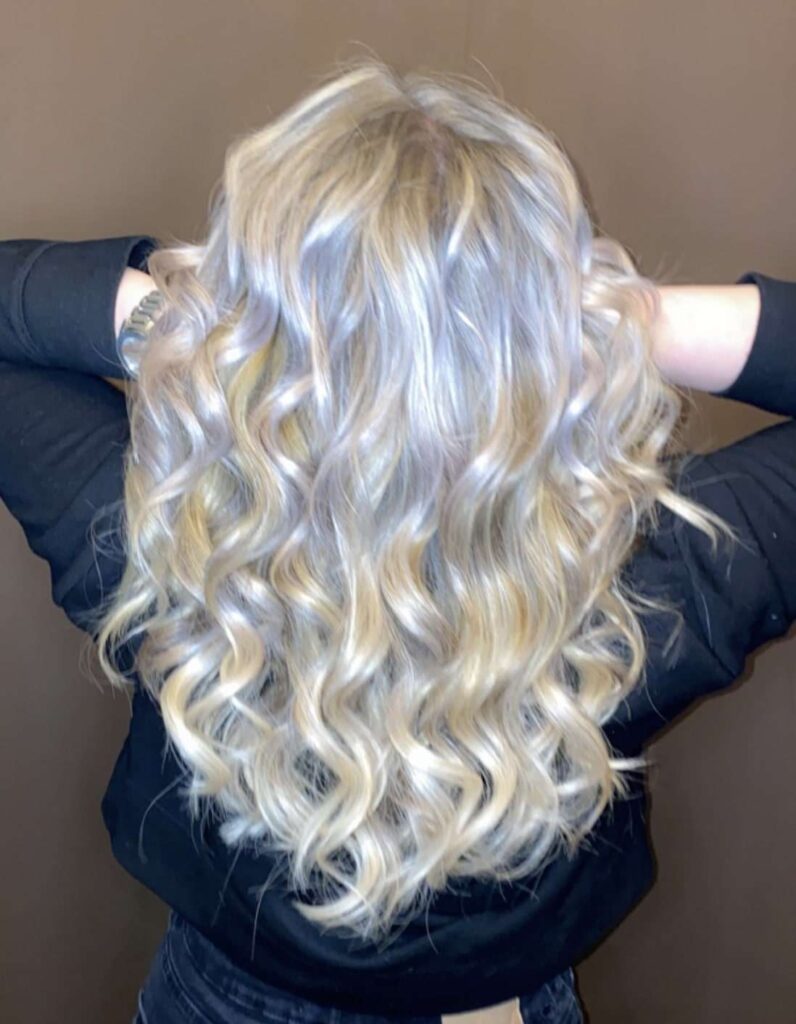 Hair Extension Techniques
Are you interested in receiving a different method of extensions? Typically you see traditional sew in's or lace frontals all over social media and now it's time for a more traditional look. You may have seen I-Tips (Microlinks), K-Tips (Keratin Fusion), Volume Weft (Braidless Sew-In), and Tape-In Installations all over your social media feed and want to learn a little more about the two. Let's start off by talking about how this technique isn't new to the beauty industry. In 2014 I was offered to take an extension class and I-Tips (Microlinks), Tape-Ins, K-Tips (Keratin Fusion) were offered. Thanks to social media all of these hair extension techniques are now trending and people want to know the difference between all of them. In the following, I will briefly explain each technique and explain why you shouldn't just select a trending technique on your social media feed. After reading this article you will be able to select which extension technique will best suit your hair textures and lifestyle.
I-Tip Hair Extension Techniques
I-Tip Hair Extensions are small strands of hair bonded with keratin and held secure with a small copper bead. Now I know a lot of my clients ask what are the difference between I-Tips VS Microlinks and the correct answer is nothing. I know that may seem crazy but the technique is the absolute same and the original name is I-Tips. This installation takes between three to seven hours. Some hairstylists require you to come to your appointment with your hair clean and some don't. I would recommend if you get your hair styled and trimmed once a month that you can schedule just an install. If you're someone that doesn't frequent the salon often I would recommend you schedule a shampoo, conditioning treatment, hydration blowout, and silk press. This will allow your hair to blend seamlessly with your extensions and movement with your extensions. In regards to highly textured hair, something a lot of hairstylists aren't mentioning on social media is a lot of the work you see with I-Tips (Microlinks) the hair is texture altered. Some women receive relaxers or keratin treatment to make the hair more manageable and create the perfect blend. For in-between chemical treatments your I-Tip installation must be taken out. Now for the move-up process, you should visit your extension specialist every four to six weeks. During this process, your extensions will be moved up, hair and build-up will be removed. I-Tips (Microlinks) can last anywhere from two to three months with proper at home hair care and regular visits to your extension specialist.
K-Tip Hair Extensions
K-Tips are my favorite hair extension technique out of them all. The K stands for keratin and this technique can also be referred to as Keratin Hot Fusions. K-Tips are extensions with keratin and a silicon additive at the beginning of the hair. The keratin and silicone are warmed up on the hair strands to fuse your natural hair and extensions. This extension application will allow the attachment site undetectable and will look the most natural out of all the techniques. The cons to this technique would be the no alcohol products or hot tools near the extension attachment area. Also, K-Tips Extensions aren't reusable and you would have to buy new hair. The maintenance for this technique is none at all, the lifespan of this installation is four to six months. Trust me K-Tips Extensions may be the most expensive out of all the installations but it is worth every penny.
Volume Weft Extensions (Braidless Sew In)
Volume Weft Extensions and Braidless Sew-Ins are the same hair extension techniques. I would like to look at this installation as a modern-day sew-in. The hair is gathered into small sections and placed into beads and then a weft is stitched over top of the beads. This technique is so popular now because instead of having to take your sew-in completely out, you go in every four to six weeks to have the weft moved up. Yes, you read that right no more taking out your install completely and getting it sew-in. I would highly recommend that you keep your installation no longer than every two to three months. Still go in for your regular maintenance to ensure there isn't any matting occurring around the beads and weft.
Tape-In Hair Extensions
Tape-In Hair Extensions is your hair being sandwiched in between two wefts of hair. There is an adhesive to keep the sandwich together and pressure is applied to remove any air pockets. All hair textures can use this techniques and is the quickest application in regards to techniques. Some pros to this technique are its reusable, flexible with different lifestyles and the hair is reusable. Cons would be you need to avoid alcohol-based products, which are typically products for volume and certain tape-ins consist of latex. If you have fine hair or aren't able to make it to the hair salon every four to eight weeks I wouldn't recommend this technique. With fine hair, you have to leave more out to cover your tape in and if you do certain movements they may become visible. Also, please do not apply heat at the adhesive part of the extension and allow an extension specialist to install your Tape-In Hair Extensions.
Locating A Hair Extension Specialist
When locating a hair extension specialist near you please do your research. I have been dealing with extensions since 2007 and strayed away from them because I saw the damage it caused to my hair. My hair was too fine for the technique that I was using and I loved my foundation to be tight. Yes, it lasted longer and gave me a natural facelift but it was horrible for my hair texture. The next trend that came out was the lace frontal which technically was meant for theatrical purposes. I sincerely care for the integrity of my guest's hair and couldn't promote a technique that wouldn't allow your hair to breathe or may cause you to not have hair edges. Yes, you may be able to learn hair extension techniques on YouTube or Social Media but it may not be the correct way. When beads are applied to the hair there shouldn't be any elevation at all because this will lead to breakage and bumps. Make sure you schedule a consultation with your certified hair extension specialist and ask as many questions. Your appointment will allow you to gain trust in certified extension specialist and also allow you to select the best hair extension techniques for you.
If this article has educated you about different hair extension techniques make sure you like and share this post with a friend. If you would like to schedule a hair extension consultation with me click here or text 240-244-9828.
Certified Hair Extension Specialist : Enigma Kargbo
Email: enigmaticstyles2015@gmail.com
Phone: 240-244-9828
Need to learn more about different hair extension techniques: https://enigmatic.space/services-mobile-hairstylist/
Youtube: Enigmatic Space
Instagram: enigmaticspace
Snapchat: enigmatic.space